We're looking forward to an evening of bawdy sings, hair-raising acts, and spooky stories. We are still populating our After Hours entertainment for 2017, so check back soon!
In the meantime, you can take a look at the entertainment we had for 2016:
---
BAWDY SINGS:
The Ladies of Integrity, Aristocracy, Repute, and Society, or L.I.A.R.S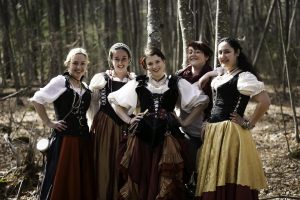 The Ladies of Integrity, Aristocracy, Repute, and Society, or L.I.A.R.S., are a troupe of reformed wenches with delusions of standing. The Ladies find their delight in bringing song to every corner of the world they visit, most often in the form of their lovely harmonies, rousing renditions of sea shanties, and merrily sung traditional folk music.
The Graces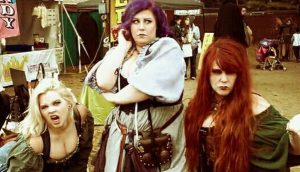 The Graces are NOT to be missed! A fast paced musical comedy show full of bawdy wiley wenchy songs that are sure to get you laughing and toe tapping! The Graces are sure to delight with their musical skills, razor sharp wit, and audience (sometimes willing, and sometimes unwilling!) audience participation! Be sure to catch these sexy, hilarious ladies!
The Creepy Bard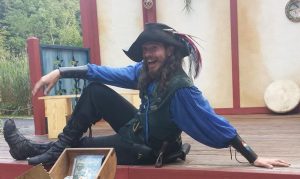 Gather round to hear as David Anthony, The Creepy Bard regales you with songs of drinking, roving, fighting, and things to keep secret from your mother. You will laugh, cry, blush and wonder where you left the whiskey.
---
FEARLESS ACTS:
Ditch Higgens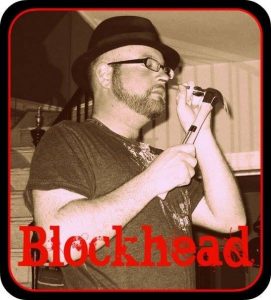 Ditch is trained in the ancient art of injuring himself for your amusement. He performs sideshow acts such as blockheading and bed of nails.
Watch in horror as he hammers a nail into his face. Stare in amazement as he comfortably settle into a bed of nails. Feel good about your choices in life as you watch him do dangerous stunts for your entertainment.
Gilly Beans BIG FIRE fire show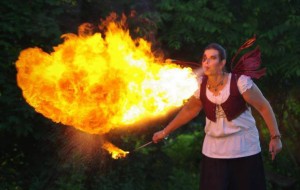 Prepare to be dazzled as Gilly beans and her assistant, Joshua, light up the sky with their fire dancing, whip tricks, and BIG FIRE. This show is not for the feint of heart. So, brace yourselves for the performance that is guaranteed to heat up all audiences.
---
NIGHTTIME REVELRIES:
Trade Route Tribal Dance and Friends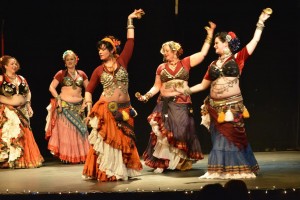 Trade Route Tribal Dance is a collective of ATS® dancers from across New England.
American Tribal Style Belly Dance® (ATS®) is a transnational fusion with dance elements from the Middle East, North Africa, Spain, India, as well as other countries.  It is group improvisation where a vocabulary of movements and cues are used allowing the dancers to create art in the moment.  With members from Maine, Massachusetts, Rhode Island, and Connecticut, the magic of ATS® allows Trade Route Tribal Dance to dance as one.
Horrors of Faerie Folklore (Nature Walk)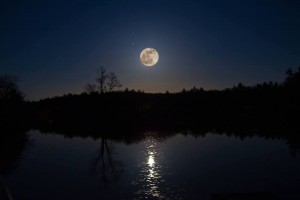 Long ago, before people had the privilege of science to explain the abnormal, many a tale was spun to explain the bumps in the night. Take a walk with us through the woods and hear some folk tales of old about the bloodiest, most terrible creatures known as faeries. Glow Sticks provided, but be sure not to follow the willow wisps away from the group.